Twitter: @EFDNI and @EFDNI-CBT
Disability Case Settlement: PSNI settles case involving disability-related absence - details
Other News Articles:
Welcome to our newest member! Lisburn and Castlereagh City Council
Recent Events:
The Dyslexia Awareness Seminar was a great success. Fantastic information and turnout, hosted by Derry and Strabane Council. Thanks to all involved!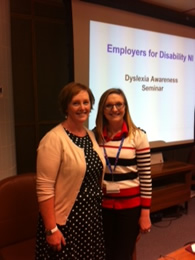 Gabrielle Fitzpatrick, EFDNI, with Mary McLaughlin, Derry and Strabane Council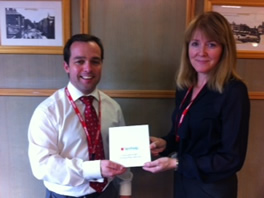 Alistair Campbell, Texthelp, donates accessible software to Mags Harkin, EFDNI
Visual Awareness Training, 24 September 2015: Thanks to the RNIB for delivering an excellent session and to the Equality Commission NI for hosting.
Disability Cases and Settlements - read
EFDNI Member Organisations - good practice examples
Jobs Bulletin Board: view
Popular services - read
Do you have a disability? Our members would value your feedback: more information



Contact EFDNI: here