Twitter: @EFDNI
Arts Council Staff know the benefits of being Disability Positive
Congratulations to Matthew Hendry, Claire Kilpatrick, Ashleigh Lilley, Nick Livington, Suzanne Lyle, Maria McAlister, Lorraine McDowell, Siobhan McDowell, Ciaran Scullion, Damian Smyth, Graeme Stevenson, Geoffrey Troughton, Deborah Young and K Bartleyon on achieving Disability Positive Accreditation following the recent Disability Positive Seminar.
While this seminar raises good disability practice awareness, the main focus is on practice underpinned by a good disability positive attitude. Being positive, welcoming, willing to assist and using your disability good practice knowledge together with direction from your disabled colleague or customer results in appropriate and better solutions for all. All these individuals have shown a great attitude towards disability and the Arts Council should be proud of them!
Member Accreditation achieved by 11 Members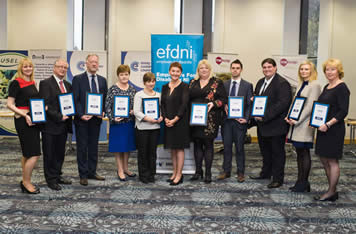 Our member representatives who received Member Accreditation with our Chair, Catherine Christy (centre)- more images/info
From left: Dr Michael Wardlow - Equality Commission for NI, Lorna Parsons - LGSC (event sponsor), Dr Stephen Farry MLA - Minister for Employment and Learning, Catherine Christy - Chair EFDNI and HR Manager, Belfast City Council
Photo below left: Legal Advsor to EFDNI, Dan Fitzpatrick, Partner, Comerton and Hill Solicitors, who verified the accreditation process, with Dr Stephen Farry MLA and Catherine Christy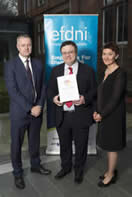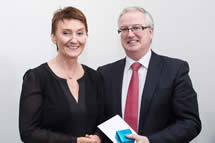 Tony Earley retires as Board Member after 24 years of service
EFDNI Annual Activity Summary 2015
News Articles:
Disabled student settles case against college - read
Leaflet on assistance with air travel for disabled people - read
Hearing Matters report predicts one in five will have hearing loss by 2035 - read
Welcome to new member, Arts and Disability Forum.
Autism Employer Guidance Booklet Launched - view

Disability Case Settlement:

PSNI settles case involving disability-related absence - details

More news and articles

- read
Recent Events:
Showcasing Disability Event: supported by Local Government Staff Commission for NI
Visual Awareness Training: Thanks to the RNIB for delivering an excellent session and to the Equality Commission NI for hosting.
Disability Cases and Settlements - read
EFDNI Member Organisations - good practice examples
Jobs Bulletin Board: view
Popular services - read
Do you have a disability? Our members would value your feedback: more information



Contact EFDNI: here